Citrix vient de publier un Livre Blanc sur les bonnes pratiques de mise en place d'une politique simple et sécurisée autour du BYOD.
L'objectif est de fournir des directives pour l'introduction du BYOD en entreprise, afin d'aider les employés en mobilité à devenir plus productifs tout en assurant une intégration simple, sécurisée et contrôlée des divers équipements (smartphone, tablette, portables…).
Bring-Your-Own-Device (BYOD) programs and policies empower people to choose the best device to get their work done, including personally-owned consumer smartphones, tablets and laptops. This white paper provides guidance for introducing BYOD to help people become more mobile and productive while IT adapts to consumerization in a simple, secure and controlled manner.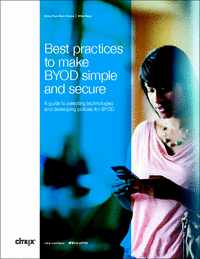 Le Livre Blanc peut être obtenu à l'adresse suivante.
Sources & ressources :
Yann

Consultant Sécurité