Notre partenaire de fédération d'identité, PingIdentity, vient d'annoncer le lancement de leur application iOS et Android de Single Sign On (SSO) couplé à PingOne.
Cette application permet d'accéder à des milliers d'applications à partir d'un quelconque équipement. Elle assure aux utilisateurs un accès de manière sûr et sécurisé aux ressources de l'entreprise via une tablette ou un smartphone.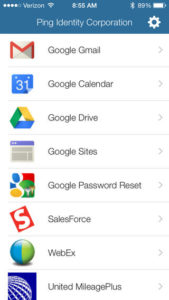 L'application iOS/Android de PingOne authentifie les utilisateurs auprès du fournisseur d'identité de l'entreprise (IdP) pour l'ensemble des applications fédérées ou via du SSO basique. Cette nouveauté permet d'améliorer l'expérience utilisateur tout en offrant aux administrateurs de la visibilité et du contrôle sur les activités qui se produisent au delà des frontières de l'entreprise.
Selon Patrick Harding, CTO de PingIdentity :
The traditional four walls of an office no longer exist, and enterprises are tasked with managing complex security requirements for employees that now depend on mobile devices to work anytime, anywhere.

Usernames and passwords are often 'remembered' or stored on devices for quick access to company resources; however, a tablet left in seat 32C on an airplane is not only inconvenient and expensive – it puts sensitive corporate data at risk. IT organizations must deliver security assurance levels that are right for the business but also fit how people work in this new era, beginning with mobile security
L'application PingOne fournit une gestion centralisée des accès aux applications, un reporting complet, du provisioning et une mise en conformité avec le SI et les politiques de sécurité, tout en offrant en un clic l'accès à des milliers d'applications.
L'offre est conçue pour évoluer avec l'entreprise et pour répondre aux exigences en constante évolution de la sécurité mobile.
Sources & ressources :
Yann
Consultant Sécurité